Nabekura: A gateway
to pristine beech forests
and satoyama culture.
ABOUT
The Mori-no Ie is located in Iiyama City's Nabekura Kougen Heights (Nagano Pref, Japan) at an altitude of 515 meters.
The location is surrounded by an old and well-preserved beech forest; visitors may enjoy walking through the wilderness and engaging in other outdoor activities.
Features of the Mori-no-Ie
Nature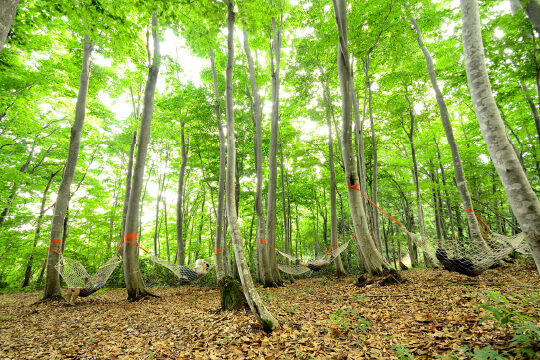 Each season, the Nabekura Kougen Heights displays a unique spectacle of plants and wildlife—from the fresh, bright greens of spring, clear summer skies, and golden leaves in autumn to vast, white, winter snowscapes.
Amidst the old, Japanese-style houses, rice paddy fields, and farmlands, guests will have the opportunity to learn about the region's unique, local history and satoyama culture.
A particular aspect of the Kougen Heights, which has garnered attention from all across Japan, is the enormous amount of snowfall that the region receives each year.
During this time, the cabins of the Mori-no Ie are almost completely buried by snow, and guests have the opportunity to experience the exceptional weather conditions.
No matter what season, the Nabekura Kougen Heights is a truly magical place, and we can assure you that visiting us will be a once-in-a-lifetime experience.
Activities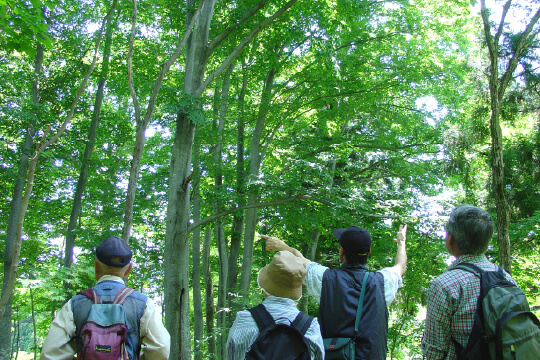 We offer various programs throughout the year such as canoeing, cycling, hiking, and cooking local, traditional foods to make our guests' stay with us more enjoyable. By participating in these activities, visitors can fully experience the charm of the Nabekura Kougen Heights first-hand and become immersed in the unique history, culture, and outdoor wonders of this satoyama area.
Stay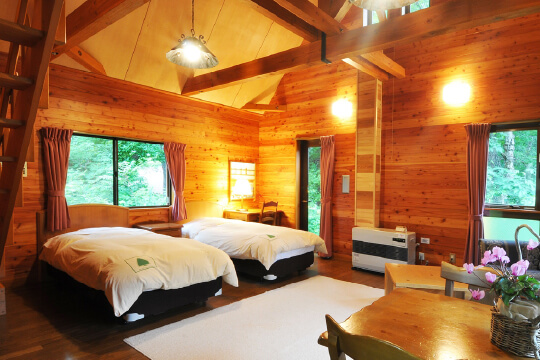 Lodging at the Mori-no Ie is located at the edge of a serene forest. From here, guests can enjoy the gentle coexistence between civilization and mountain landscape from the warmth and comfort of a private cabin.
CABINS
We have ten cabins located at the edge of a beautiful forest. During the winter, the buildings are almost completely buried by the annual, heavy snowfall.
In total, there are three different types of cabins: a Western-style cabin with beds, a Japanese-style cabin with tatami mats and a kotatsu (a heated table that is only available during the winter), and a sofa-bed style cabin with three sofa beds. Every cabin also has a loft space with extra futon mattresses.
The buildings are also, fully equipped with cooking supplies, including tableware, a refrigerator, microwave, toaster, rice cooker, and coffee maker.
ACTIVITIES
In the Nabekura Kougen Heights area, you can be fully immersed in nature.
We offer experience programs such as:kind of hiking, cycling, and cooking local and traditional foods to make your stay more interesting and inspiring.
Through all our programs, you'll see unique aspects of the Japaneseof Japanese countryside.
ACCESS
by train
TAXINagano Kotsu TEL.0269-65-3106 Togari Hire TEL.0269-65-2129
Togari Nozawa Onsen Station ⇔ Mori-no-Ie (approx. 4,000 yen)
If you would like to be picked up from the Togari Nozawa Onsen Station, please make a reservation in advance (Mori-no-Ie: 0269-69-2888).
If you would like to depart from the Togari Nozawa Onsen Station for your return trip, please let us know when you check in and make a reservation.
by car
If you are coming by car during the winter season (December—March), it is best to use a four-wheel drive vehicle that is equipped with snow tires.
Two-wheel drive cars may get stuck in the heavy snow or experience difficulty ascending the mountain roads.
It is also highly advised to plan on arriving before sunset, as the roads surrounding the Mori-no-Ie are not plowed after dark.
Information for Guests
*Pickup and Drop-off
We have a shuttle service to/from the Togari Nozawa Onsen Station.
Please make a reservation in advance through our booking form or by email.
Pickup and drop-off are arranged between 9:00AM and 6:00PM.
Please note that, even within our hours of service, we may need to consult with you about the best time for transportation.
In winter, it may be difficult to travel in the early morning and evenings depending on the weather conditions. Thank you for your understanding.

Facilities and extras
*Any requests for extra facilities will be subject to availability. Thank you for your understanding.
The number of cabins: ten (one Log house, three Western style, three Sofa bed style, three Japanese style)
Parking Space: thirty cars and ten large coaches, free of charge.
Meals: Self-catering cabin (please bring your own ingredients, condiments, oil etc.)
Kitchen: Gas stove (with 2 burners), a refrigerator, microwave, rice cooker, electric kettle, toaster, coffee maker, French press coffee/tea server, electric griddle, portable stove (the fuel canister is not included, but can be purchased at the front desk), a dish sponge, dish soap, tea towel, dishrag, tableware, cutlery (*please bring plastic wrap, aluminum foil, coffee filters, or anything else you may need other than the items mentioned above.)
Cooking utensils: pot, kettle, pan, Japanese clay pot, cutting boards, knives, bowls, colander, tongs, turner, cooking chopsticks, ladle, kitchen scissors, grater, tin opener, wine bottle opener

Shower room: Shower box without bathtub (with hot water), bath mat, hair dryer
*There are neither toiletries ,nor bathroom items such as body soap, shampoo, and towels. We rent towels and sell shampoo sets at the front desk.
Toilet: An electronic, Western-style toilet with a heated seat and bidet.
Air conditioning: Air conditioner/heater, kerosene fan heater, wood burning stove (selected cabins only)
Wi-Fi: Available in each cabin and the main building
Electric outlets: Log house cabin has 3 on the 1st floor, 2 in the loft space, 1 in the washroom. All other cabins have 4 on the 1st floor, 2 in the loft space, 1 in the kitchen, 1 in the washroom.

Others: There are wired loud speakers with an auxiliary input jack installed in each cabin, and you are welcome to connect them to your own smartphone or music device. We have 2 laundry machines and 2 tumble dryers in the main building that our guests can use with charge. There are no televisions in our cabins.
Accessibility: One of our Western-style cabins is wheelchair accessible with a ramp. We also rent a portable wheelchair ramp and shower chair for free of charge.
Note about insects: Our cabin windows are fitted with screens. Throughout the year, we do our best to remove any bugs as much as possible. You may, however, still find some insects in the cabins despite our efforts since the Mori-no-Ie is located in the woods. Especially during the hot and humid summer days, we tend to have many flying ants—with a similar trend in the spring and autumn months with stink bugs. We kindly ask for your understanding.
Pets: Pets are not allowed in the cabins or on the trails.